Matteo Ghidoni – Public works
Vljudno vabljeni na gostujoče predavanje arhitekta in urednika revije San Rocco, Mattea Ghidonia, z naslovom »PUBLIC WORKS«. Predavanje bo v torek 7.6.2022 ob 19h v Plečnikovi predavalnici na UL FA.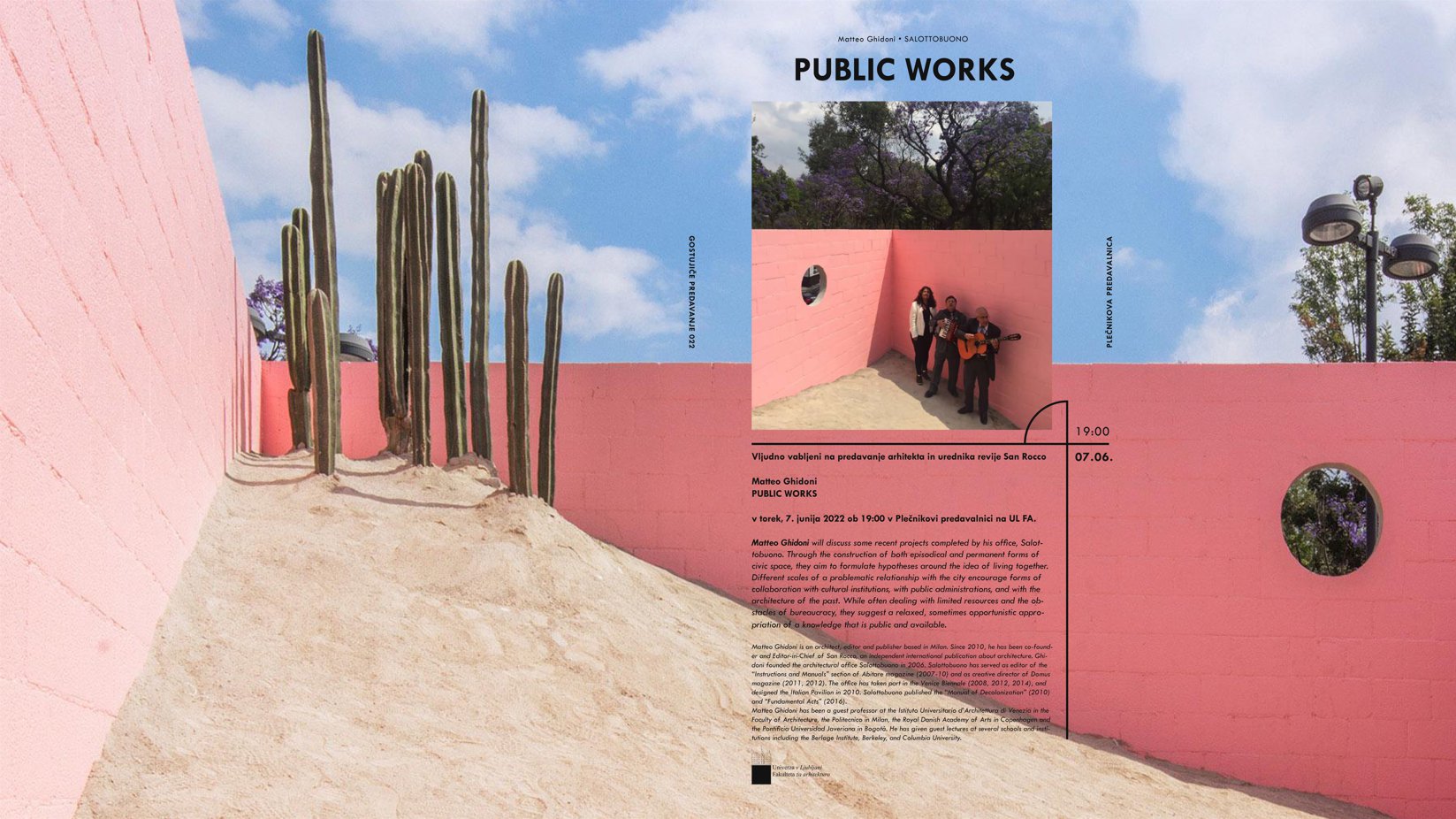 Matteo Ghidoni will discuss some recent projects completed by his office, Salottobuono. Through the construction of both episodical and permanent forms of civic space, they aim to formulate hypotheses around the idea of living together. Different scales of a problematic relationship with the city encourage forms of collaboration with cultural institutions, with public administrations, and with the architecture of the past. While often dealing with limited resources and the obstacles of bureaucracy, they suggest a relaxed, sometimes opportunistic appropriation of a knowledge that is public and available.
Matteo Ghidoni
Matteo Ghidoni is an architect, editor and publisher based in Milan. Since 2010, he has been co-founder and Editor-in-Chief of San Rocco, an independent international publication about architecture. Ghidoni founded the architectural office Salottobuono in 2006. Salottobuono has served as editor of the "Instructions and Manuals" section of Abitare magazine (2007-10) and as creative director of Domus magazine (2011, 2012). The office has taken part in the Venice Biennale (2008, 2012, 2014), and designed the Italian Pavilion in 2010. Salottobuono published the "Manual of Decolonization" (2010) and "Fundamental Acts" (2016). Matteo Ghidoni has been a guest professor at the Istituto Universitario d'Architettura di Venezia in the Faculty of Architecture, the Politecnico in Milan, the Royal Danish Academy of Arts in Copenhagen and the Pontificia Universidad Javeriana in Bogotà. He has given guest lectures at several schools and institutions including the Berlage Institute, Berkeley, and Columbia University.